Regular price
Sale price
$39.99 USD
Unit price
per
Sale
Sold out
Manta Planner is an all-in-one tool for cancer patients, caregivers and survivors. This planner helps you stay organized during this overwhelming journey by keeping track of treatment options, tracking & managing symptoms, staying organized, and mindfully checking in with your emotions. This planner doubles as a journal where you can write about your thoughts, feelings or experiences during treatment. Take Manta Planner to your doctor appointments to record important information and navigate your journey to a healthy and well-thy life.
Share
What's Inside

Planning sections for 

- Diagnosis, including suggested questions to help you plan

- Treatment Plan, including frameworks to know how to make decisions around treatment 

- Symptom & Nutrition Plans, for identifying activities to support symptoms, and nutrition 

- Healing Plans, with nudges to help you heal through treatment 

- "Your Space" pages for your thoughts & reflections

Daily Check-In

- Gratitude & Hope journal

- Sleep tracker

- Symptom tracker

- Medication & nutrition tracker

Visit Notes

- Structured pre-appointment, at-appointment, and post-appointment note-taking templates

Research Notes
Product Specifications

Easily fits inside a small bag: 5.5 by 8 inches 

Lays flat for easy writing: Spiral bound

Water resistant cover: Aqueous cover laminated 

Comprehensive: 200 pages with everything you need; 30 days of daily check ins and 24 appointment pages

Joyful writing experience: White pages (70 lb opaque paper) 

Easy marking: Planners have visual tabs and include bookmarks 

Lightweight: Less than 0.7 pounds

Printed locally at a small women owned business
View full details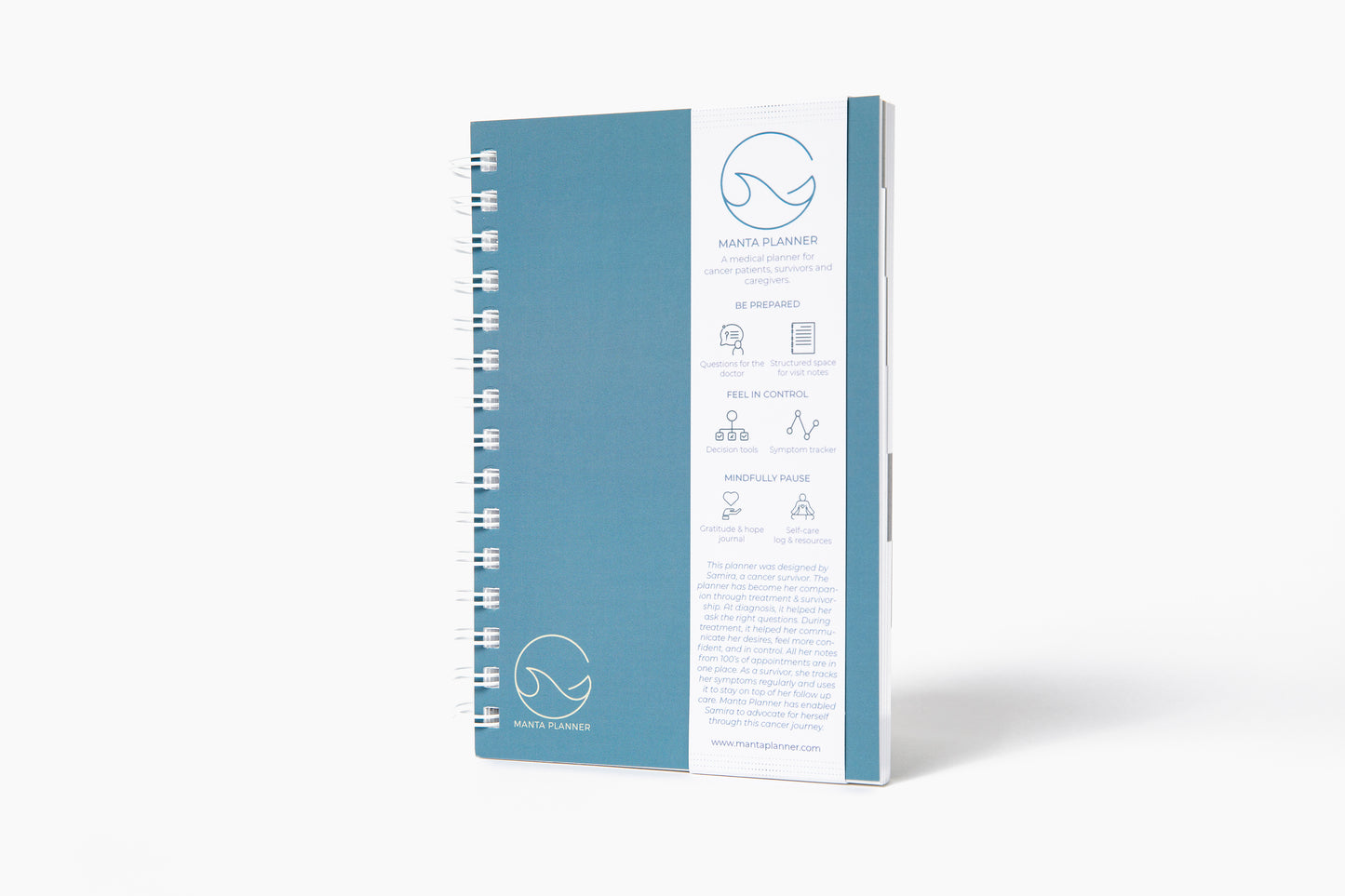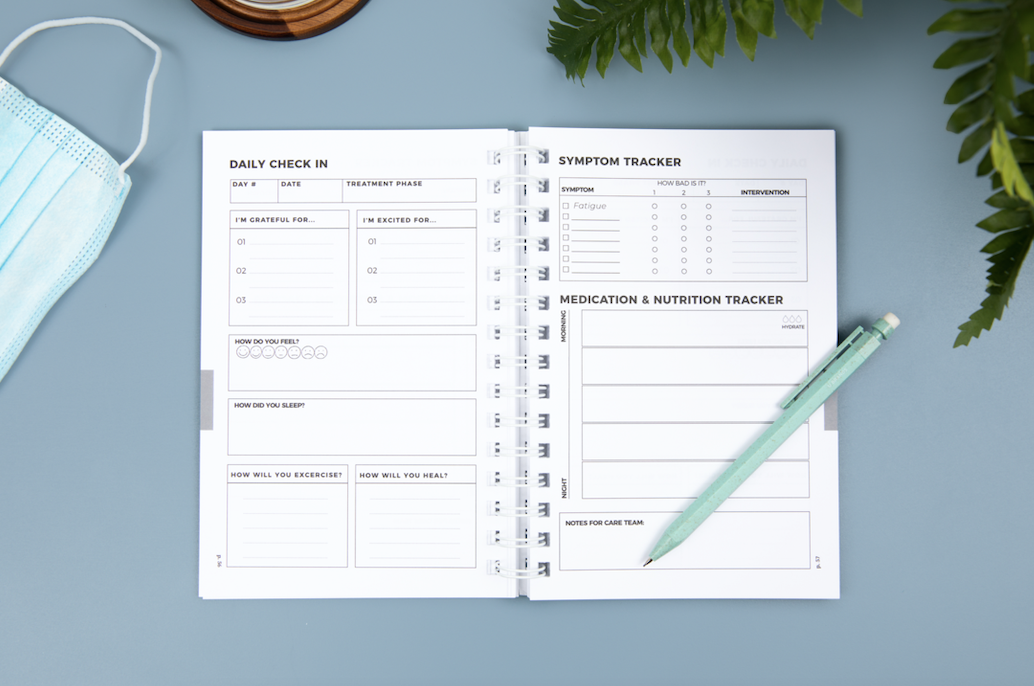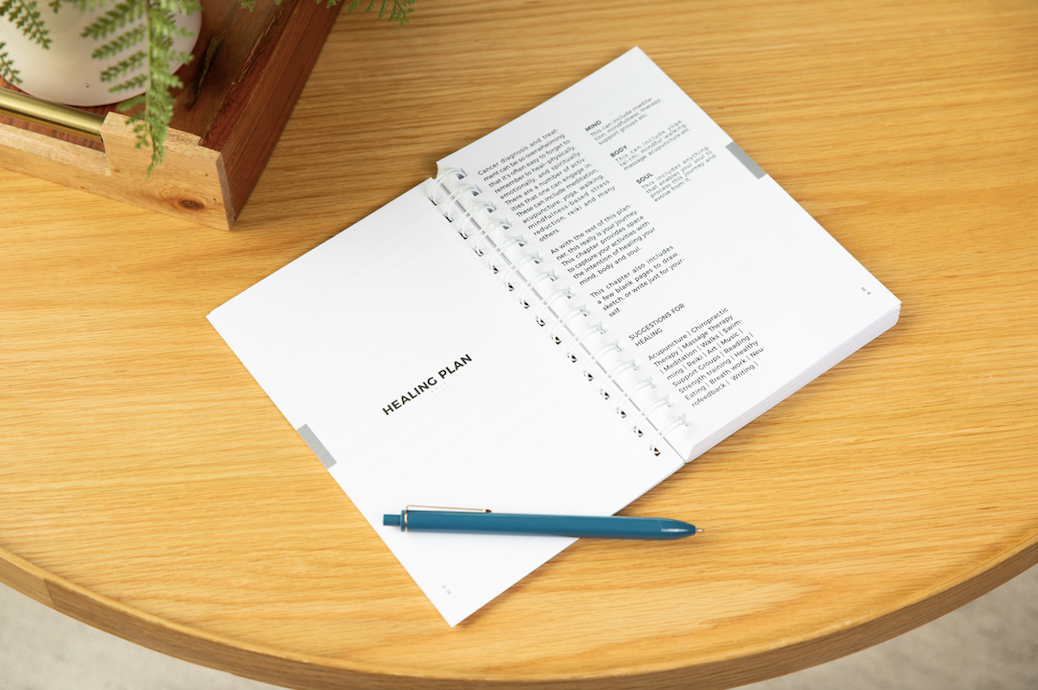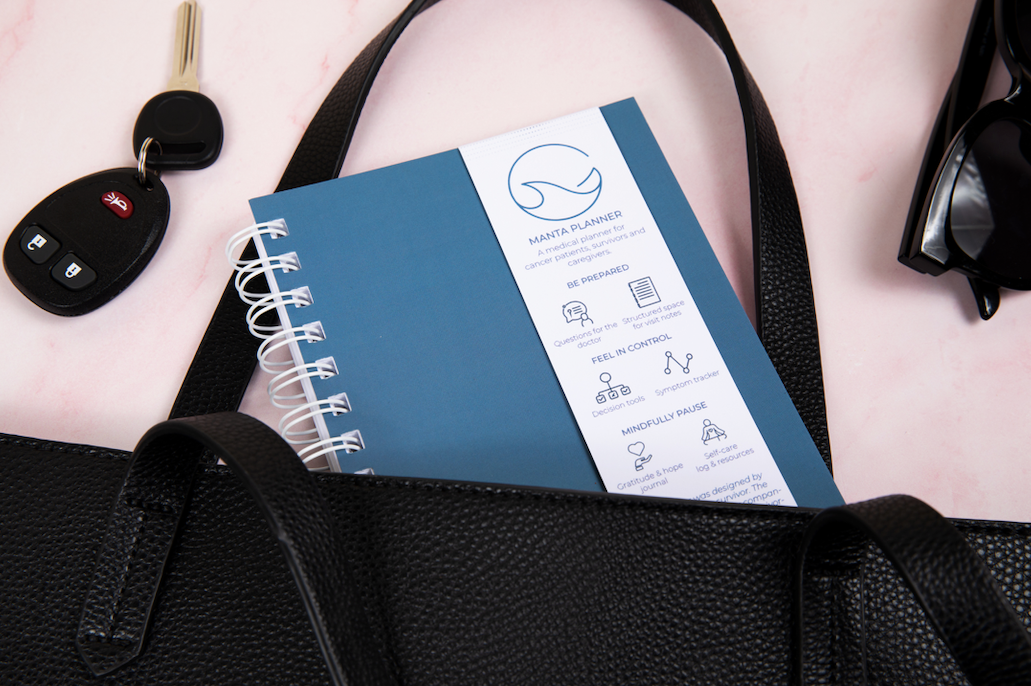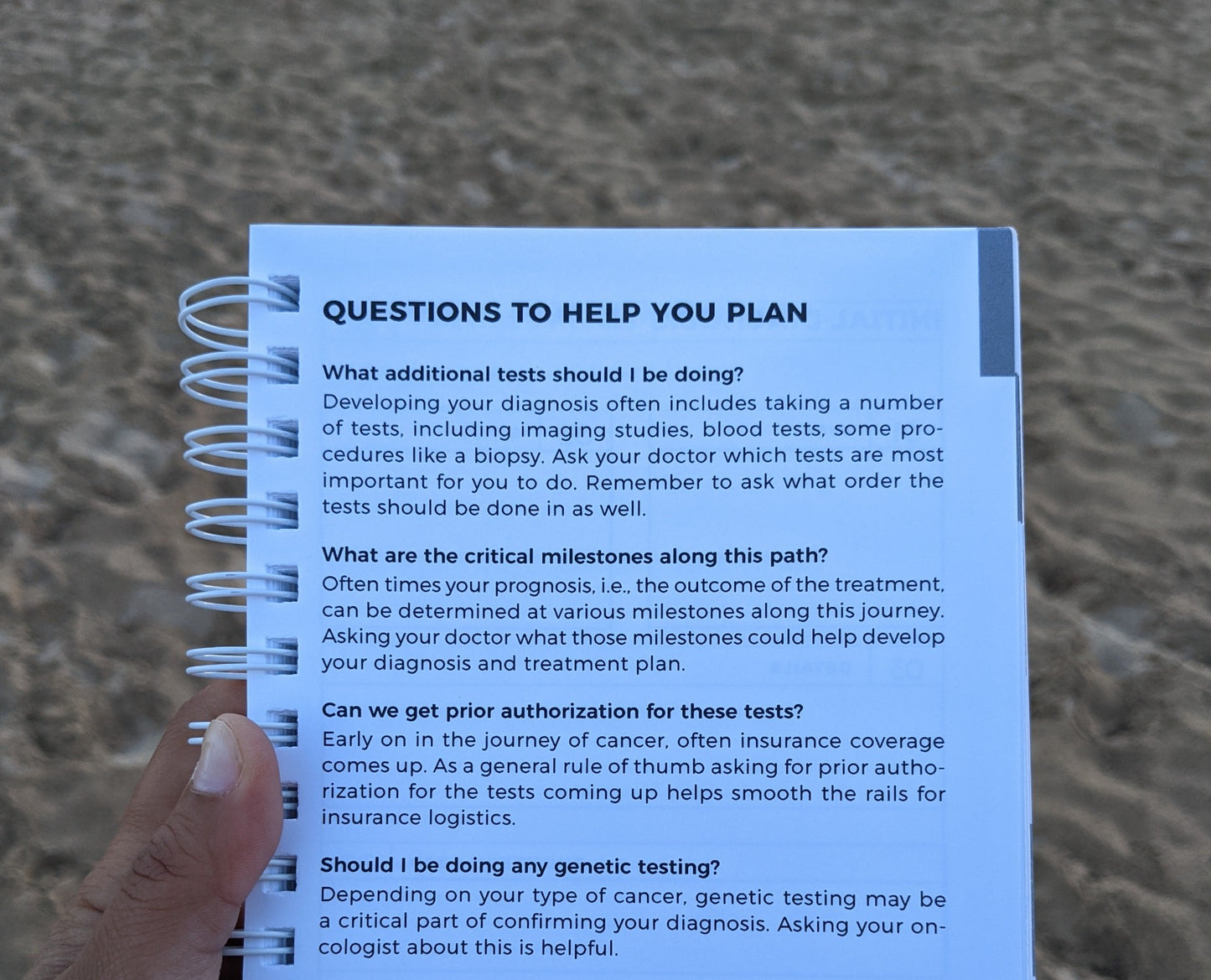 Great tool!
I have just started using my Manta planner, but I already love the structure of it. When I start my chemo I'll be using the daily check in on symptoms and feelings.
Invaluable resource!
Thank you for creating an incredibly useful tool! The Manta Planner has become such an important part of my experience with cancer. Having one place to capture all of the medical related and appointment info has been really useful, but for me, it's the daily check in reminders that have made all the difference. Providing a space to reflect and document reality AND areas for hopefulness and empowerment is the perfect combination. I've even started a gratitude journal because of the practice created in the planner. My only regret is that I did not have the planner from the time of diagnosis - I know it would have been really useful during that period of information overload and decision making.
Outstanding resource!
I love the Manta planner! In fact, I have given it to people who are newly diagnosed, and I plan to take it soon to my cancer institute with the hope that they will begin offering it to patients. After my initial diagnosis, I began keeping a health diary at the suggestion of an academic colleague. This diary has been invaluable, but it is *not* organized, so I often must read through years' worth of pages to find the information I need. In contrast, the manta planner is superbly organized, enabling a patient to make entries quickly on a particular topic (e.g., treatment plan, tests, symptom tracker, visit notes,) and later retrieve the desired information rapidly and efficiently.
I wish I had this tool when I was first diagnosed yet it is still useful 7 years after my diagnosis!
This planner is a nice size, it is logically organized, easy to use and it is aesthetically pleasing to work with. All important factors for an every day tool. The planner prompts you to think and ask your doctor about things you might not have considered, like what are the potential side effects of treatments, what might be alternatives, when should you call your healthcare team. There is a daily symptom and medication tracker as well as wellness prompts like, how you want to work on healing each day. It is truly a useful tool for me as a patient, as it keeps me organized and it is helpful to have everything in one place... meds (what each is and how and when to take), side effects, symptoms, questions that come up for my healthcare team, visit notes, etc. As a doctor, I see a huge benefit to patients tracking their symptoms, side effects, and medication intake as well as jotting down their questions for me as they come up. I often had patients come to their visit with a vague idea of their symptom progression and which meds might be associated with which side effects. Sometimes they forget important questions and only remember after our visit. Tracking these data gives me a much clearer picture of what is going on and will empower me and the patient to provide better, more individualized care.
Great all-in-one cancer planning and tracking tool!!
Manta Planner helps organize my medical journey and keeps track of important medical information for me. Manta Planner contains planning and tracking templates for cancer diagnosis, treatment, symptoms, and nutrition, covering all aspects of the cancer journey. Manta Planner also has many daily check in pages where I can log my sleep quality, practice daily gratitude, create meal plans, and write down symptoms to ask my doctor about. Overall, it's a great planning tool that I carry everywhere. I love it and absolutely recommend it to anyone going through the cancer process!